Indoceane Ritual: at the heart of the Orient – 1.5 hours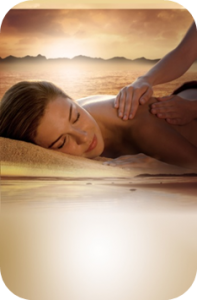 Close your eyes and let yourself drift away on the path to the Orient, and into a dream of serenity. Sacred Lotus and QI-Marine, which relaxes cellular stress, combine to enhance this sensuous feeling of serenity.
Beauty treatment ritual: 1.5 hours
The Mediterranean. A sweet and savoury exfoliating body scrub with hints of citrus.
Immerse yourself in a blend of delicious fragrances to reveal softness and natural beauty. Sea salts, brown sugar, and essential oils.
India. Tranquility on the banks of the the Sacred Ganges, a sacred massage.
Forget any tensions, stress, and what makes you angry, and let yourself be carried away by the ultimate massage where percussion, friction and deep smoothing come together.
China. The temple of beauty, a smooth body wrap.
Achieve that perfect glow and radiate with sublime beauty…Wrap yourself in a smooth and creamy texture for infinite soft and velvety skin.
Photo Gallery
Our treatment
Opening Hours
| | |
| --- | --- |
| Mon. | 12h - 19h |
| Thu. | 10h - 19h |
| Wed. | 10h - 19h |
| Turs. | 10h - 19h |
| Fri. | 10h - 19h |
| Sat. | 10h - 19h |
| Sun. | Closed |
Contact Us
To make an appointment, thank you to use the phone rather than a mail for reasons of speed and simplicity.
+33(0)4 93 92 51 08