L'instant Spa, your wellbeing and relaxation centre in Nice, offers you a moment to escape in a calm, warming atmosphere which is open to all. Enjoy a wellbeing break and forget your daily stress.
Escape in Nice
L'instant Spa is a place dedicated to your wellbeing, bringing together beauty and technology in a world of relaxation and pleasure. Our wide range of experience has allowed us to develop a perfect control.
Whether you are a man or a woman, come and make the most of our expert hands:
Body care (ritual treatments from all over the world, Californian massage, hot stones treatment, "Integrative" thinness care package…)

Facial Treatments (Expert anti-ageing, Hydrating skincare, ThalgoMen Ocean care….)

Hand and feet beauty treatments
Tanning
Hair Removal
Teeth whitening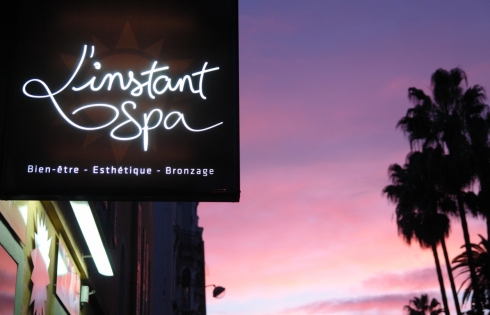 Our unique expertise guarantees you quality services with competitive prices.
L'instant Spa, your wellbeing reference in Nice
L'instant Spa: Relaxation and wellbeing
L'instant Spa offers a moment of relaxation and beauty thanks to its innovative technologies and our teams of qualified professionals. We offer treatments that are open to all encompassing everyone's desires.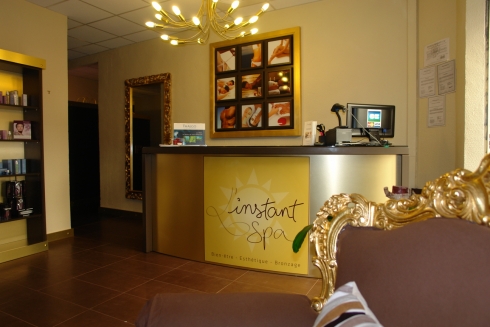 Our abilities and linguistic qualifications allow us to communicate with you in different languages:

French

English
Relax and have a good time at L'instant Spa.
L'instant Spa
Wellness – Aesthetic – Tanning
04 93 92 51 08
 Dear customer, in order to offer you the maximum comfort and relax, and faced with the increased of appointment not honored or canceled at the last minute, we regret to have to apply some precautionary measures:
– When making an appointment, we require a deposit by Credit Card (by phone), or by Paypal directly to the Centre and deductible of the amount of the care.
– In case of cancellation more than 48 hours before the appointment, the deposit will be refunded as a credit (valid for 3 months), or refunded upon request.It will however not be returned in case of absence or appointments canceled within 48 hours of the appointment.
– In case of reserved care, canceled less than 48 hours, not canceled and not made, care will be fully due.
– In case of reserved care with a gift card or voucher and not honored or canceled less than 48 hours before card, the value of care will be automatically deducted from the value of the card or voucher.
– In case of delay, we will be forced to shorten the length of all care, so as not to penalize the following customers.
Finally, remember to use your coupons and gift certificates before they expire so they would not be lost!
These simple rules will allow us to ensure optimal performance and meet your scheduling constraints. Thank you for your understanding