L'instant Spa, your relaxation centre in Nice offers a large range of body treatments adapted to all that you desire. Loosen up and enjoy a moment of respite away from your everyday troubles.
L'instant Spa: let your sensations run away with you for 1, 2 or 3 people
L'instant Spa, relaxation centre in Nice, ensures that you will have a unique moment to escape, alone or as a couple, thanks to the wide range of treatments. Come and select our body treatments:
Exfoliation: €55 Solo*, €110 Duet*
Our exfoliation treatments allow the cleansing and hydration of your skin whilst offering you a time of relaxation for 30 minutes (shower included).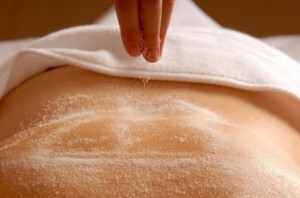 Brown Sugar and Sea Salt
White Sand from Bora Bora
Rice and Cherry Flowers
Bark Green Leaves
Sugar and Mango
Black sand and vanilla
Sugar Nuggets and Sandalwood
Coconut
Body treatments – Massages* from €47 Solo* / €94 Duet*
Massages are a body treatment destined to make you relax and unwind (*non-therapeutic).
Our massages are done with naturals oils neutral or perfumed oils.
Discovery Californian: relaxing massage of one or two parts of the body – 30min: € 47 Solo*/ €94 Duet*
Californian: relaxing massage for a perfect wellbeing – 60min: € 80 Solo* / €160 Duet*
Swedish: working the tension in your nerves for anti-stress virtues – 60min: € 85 Solo* / €170 Duet*
Deep Tissue: deep and invigorating with stretching. Enabling the detoxification of muscle fibres – 60min: € 100 Solo*/€200 Duet*
Candles: warm, relaxing and moisturizing. Done with a massage candle 60min: € 90 Solo*/€180 Duet*
Hot stones treatment: working the chakras with hot basalt stones. – 60min: € 95 Solo* / €190 Duet*
Rituals from around the world – 1.5 hours: €129 Solo* / €258 Duet*
For an instant of wellbeing and escape, discover our rituals which are complete body treatments composed of exfoliation, a body wrap and a massage: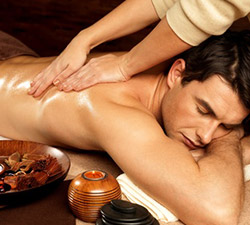 Indian Ocean: on the road to the Orient, sea salt, brown sugar, tangy citrus fruits, sandalwood, cedar, patchouli oil
Polynesia: white sand from Bora Bora, sea salt, Monoi oil
Japan Sakura: Zenifying and Floral with Cherry Flowers
Maldives: under the coconut trees
Punta Cana: with mango
Reunion Island: with vanilla
Scandinavia: with Green Leaves
Dubai: Amber Sandalwood
Body-sculpting treatments and MINCEUR INTEGRATIVE™ THALGO
Our body-sculpting treatments provide you with a moment of relaxation together with slimming techniques.
Lymphatic drainage (non-therapeutic) € 90
Light leg treatment € 65
New THALGO treatment
Cellulite reduction treatment: 30min of anti-cellulite massage (subdermal tissue massage) on targeted zones and determined according to your needs and the advice of the practitioner. € 50
High precision sculpting massage against cellulite, bulges and loose skin: 15min of body wrap followed by 30min of massage adapted according to your needs. € 65
Treatment for cellulite reduction: 10 sessions of 30min € 450 (including one free session)
Treatment for cellulite, bulge and loose skin correction: 5 sessions of 45min alternated by 5 sessions of 30min. € 515 (including one free session)
L'instant Spa has 4 spacious cabins of which one is a duo for the pleasure of couples. Enjoy a comfortable space for a moment of pure happiness.
L'instant Spa Wellness – Aesthetic – Tanning 04 93 92 51 08
* Solo : care or massage for a person. Duet : care or massage made at the same time in the same cabin with 2 practitioners.
There is no requirement to take identical care or massages. For example, you can choose to make in Duet a Californian massage and a Deep Tissue massage, or a massage for the one and the facial skincare for the other one. To know the rate you just have add prices of corresponding "Solo". It's better to select care of equivalent duration for a better relaxation.
It is also possible to make care to 3 people in the same cabin. The price is then the one of the "Solo" multiplied by 3.