Polynesian Ritual: experience the Polynesian islands – 1.5 hours.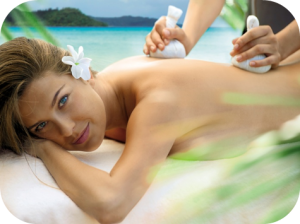 Unwind and beautify your body beyond expectation with reinvented ancestral methods… Each step invites you to discover the secrets of Polynesian relaxation. An introductory route that leads you from island to island, towards a marvellous feeling of well-being. The magical alchemy of Monoi from Tahiti, protective, moisturising, and rich in trace elements of Pacific micro-algae with de-stressing properties.
Beauty treatment ritual: 1.5 hours
Sail across the waters of the Pacific… After these three sensory stops in the Polynesian reefs, your body will return detoxified, recharged and relaxed.
Taha, the vanilla island: Delicious Polynesian exfoliating scrub

A blend of coconut shell, the white sand of Bora Bora, sea salts and Tahitian vanilla for the smoothest, silkiest skin.
Bora Bora, the island of white sand: Mahana massage

Give in to an exquisite massage, slow and powerful, with warm sand pouches for the ultimate relaxation. Surrounded by the fragrances of the tiare flower, the body relaxes to the point of ecstasy.
Raiatea, the sacred island: Polynesian sacred oil

In this wonderful last step, the skin is covered with pretty, sun-kissed pearls.